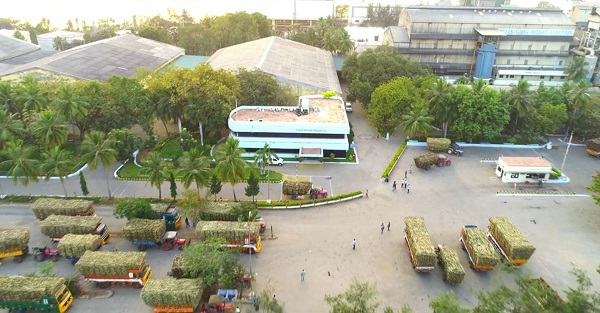 "Ponni Sugars (Erode) Limited" is an offspring of Ponni Sugars and Chemicals Ltd (PSCL) under a Demerger Scheme sanctioned by the Hon'ble High Court of Madras on 10th September 2001. In terms of the Scheme, the company took over the business of Erode Undertaking with concurrent transfer of major part of stakeholders' interest in PSCL to the company.
The Erode sugar mill was set up with 1250 TCD capacity in 1984 in a record time of 12 months. It achieved full capacity crushing during the very first year of its commercial operation that enabled declaration of a maiden dividend of 10% in that very first year, a record in the annals of sugar industry. It was a trendsetter in mobilising surplus cane during its infancy stage from neighbouring sugar mills and extending crushing season to well above industry average. Its capacity was expanded to 2500 TCD in 1994 and to 3500 TCD in 2012. It commisioned a 19MW Cogeneration plant in 2012.
The Erode sugar mill has successfully implemented an innovative Lift Irrigation Scheme by bringing in dry lands under cane cultivation, utilizing the effluent discharge of the neighbouring paper mill. This has helped secure multitudinal benefits - providing a dependable and perennial source of irrigation to farmers in the neighbourhood, increase of land value manifold in the region, transforming the livelihood of local rural population, resolving the raw material needs of sugar and paper mills and addressing ecological concerns in effluent discharge.
Right at inception Ponni was structured on the unique concept of total diversion of bagasse for paper. For this, it installed a coal fired boiler in place of conventional bagasse fired boiler and sold its entire bagasse production under a mutually beneficial long term tie-up arrangement with Seshasayee Paper and Boards Limited. Later, in 2012 it installed a state-of-the-art multi fuel boiler for cogeneration of power wherein it uses disparate species of bio-fuel as an eco-friendly measure, keeping coal consumption to the bare minimum.
Ponni is an efficient and quality producer of sugar, catering to both domestic and international markets. It is a venerable partner for villagers growing sugarcane in its neighbourhood. It enjoys cordial relationship with employees. It firmly believes in transparent and fair dealings with all its stakeholders by following sound corporate governance norms both in letter and spirit.
Date Chart
| | |
| --- | --- |
| 26-12-1996 | Company incorporated under the name SPB Sugars and Chemicals Limited |
| 25-01-2000 | Name of the company changed to Ponni Sugars (Erode) Limited |
| 10-09-2001 | Demerger Scheme for the transfer of Erode Undertaking of Ponni Sugars and Chemicals Ltd established in 1984 to the company effective 01.04.1999. Sanctioned by High Court of Madras. |
| 18-10-2001 | Completion date of Demerger Scheme which comes into effect from 01.04.1999. |
| 17-08-2012 | Commissioning Cogeneration Plant feeding Green Power into Grid. |
Factory Factsheet
Year of Establishment
1984
Initial Capacity (TCD)
1250
Present Capacity (TCD)
3500
Factory Area (acres)
33.51
Colony Area (acres)
9.10
No of Employees
Regular - 133
Seasonal - 147

280
No. of Employee Quarters
145
No. of Cultivators
4500
Quality and Environmental Policy
We at Ponni Sugars (Erode) Limited are committed to conducting our business with a key focus on ensuring duty of care in minimizing the environmental impact of our operations and also the safety & well being of all our employees and stakeholders. Our endeavour is for each of our workforces to return home safely without injury and ill-health, today and every day. To achieve this goal, we are committed to:
Comply with applicable compliance obligations relevant to our QEHS requirements
Strive to enhance customer satisfaction by providing quality sugar on-time, every time
Provide a safe and healthy work place by eliminating hazards and reducing risks with a focus on zero injuries, occupational diseases and accidents
Protect the environment by ensuring efficient use of resources, reduction of emissions and minimizing wastage throughout the life - cycle stages of our activities, products and services
Promote continual improvement of QEHS management systems and enhance QEHS performance by adopting best practices and technological options
Encourage open communication, learning and sharing of QEHS knowledge in developing a competent workforce
Instill positive work culture through workforce engagement through effective consultation and participation arrangements.
This QEHS Policy is aligned with our Mission-Vision & Core Values and provides a framework for establishing, monitoring and reviewing our QEHS Objectives & key performance indicators. Further, our Management is committed to supporting this QEHS Policy with adequate resources and taking the accountability necessary to achieve the policy requirements.
The Success of 5-S
Originated from the Lean Manufacturing Policy, the 5S is about managing the workplace where work area and work space are organized and ritualized to minimize the loss of time and use of movement. 5S comprises five principles to make people highly efficient and effective in their doing work.
| | |
| --- | --- |
| Sort | Keep near you only what regularly you use |
| Set in Order | Find exactly your need in < 60 seconds |
| Shine | Have your workplace and equipment for immediate use |
| Standardise | Everyone does each job in the same way and is challenged to improve it |
| Sustain | Everyone does their part to foster a safe, efficient and effective workplace |
5S at Ponni Sugars was initiated in October 2014. Self-audit is conducted by members daily and the progress documented through an audit sheet.
Tangible benefits
About 49000+ square feet of freed space available for use
Increased employee involvement in daily operations
Demonstration of ownership and responsibilities by members
New image is created - Green - Clean - Strong
Now taking "II"S into process and progress is visible